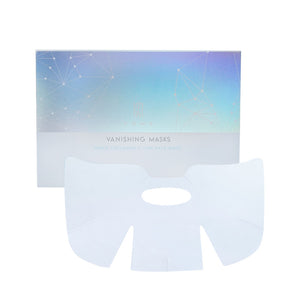 POME Vanishing Strips turn marine collagen into nanofibre to replenish and repair collagen loss due to pollution and ageing, resulting in an instant as well as long-term anti-aging, tightening and whitening effect. The marine nano-collagen V-line face mask is absorbed deep into your skin, mitigating fine lines and wrinkles to provide an instant facelift. Covering your cheeks all the way to your jaw, this mask is designed to chisel your jawline for a more youthful and radiant appearance. 

Minimising sagging skin around the neck by way of surgery or beauty salon treatments is expensive and time-consuming. Using POME Vanishing Strips consistently allows fast-acting water-soluble nano-collagen to work its natural wonders so the dreaded 'double chin' can be prevented or reduced. Indeed, continuous use over just 7 days has been clinically proven to increase skin elasticity by 17% and reduce water loss across skin layers (TEWL) by 16%.
100% preservative-free product working for your skin: 100% all-natural active ingredients. 100% undiluted.
Patented biotechnology from New Zealand
Fight ageing with skin-rejuvenating nano-collagen: achieve a firmer, softer, smoother, and healthier-looking skin only after just one week of continuous use.
Lift skin instantaneously with clinically proven ingredients that directly replenish collagen loss. Targeting the jaw to redefine facial contours, the V-line mask effectively improves skin elasticity and help prevent a 'double chin' from forming.     

Directions for use:
To achieve the best effects, we recommend using POME Nano Collagen V-line Face Mask for 2 weeks consecutively, then continue to use 2 times a week as maintenance.
Volume:
4.1g/ 5pcs/ box
Caution:
Store below 25°C in a dry place away from direct sunlight.